# Smallholder Agribusiness Partnerships
In Filling Program Beyond Traditional Practice for Sustainable Livelihood Development of Tea Smallholders
Kaluthara District and Kalawana
Background of the Proposed Project
AGC looks forward with maintaining tea leaf supply in order to run the factory in optimal capacity without facing the current declining rates observed in tea production of smallholders. With the present scenario (declining of leaf production of smallholders) in order to maintain the supply of green leaf at its current capacity, AGC needs to expand the leaf feeding area, resulting increase of cost of production. Therefore AGC proposes to promote infilling operation in selected 3000 smallholder tea leaf suppliers out of the 6000 network of suppliers to the factory to get the Green Leaves supply increased from the existing suppliers which is very cost effective for both smallholders and the factory and to secure the viability of the business and the livelihood income of connected farmers. AGC is planned to work with rest of the people after successful completion of the 1 st phase and after establishing their own nursery by providing them subsidized and quality tea plants. Under the proposed project farmers will get close attention from the company and will become direct clients of the company through its extension service and will provide quality tea plants with adequate soil improvement facility which will assure higher yield and intern high income for farmers, as a result of crop of the in-filled area which is the most cost effective method for smallholder farmers. The expected growth of Green leaf supply is 15%. Following strategies are proposed to achieve the objective;
• To source required quality plants maximum 500 plants per farmer (on an average 375 plants) with required specification as planned phase wise 2018-2021.
• To Establish 30 mini plant nurseries with a capacity of 50,000 plants per annum under selected youth individuals with direct guidance of the company for long term sustainability of the partnership.
• To conduct on-site soil testing of smallholder lands (PH testing) by deploying mobile testing unit throughout the project period covering 3,000 beneficiaries and provide further technical support through the TSHDA support.
• Addition of 1800,000 Kg of green leaf equivalent to 387000 Kg of made tea per annum after complete implementation of the project with 3000 beneficiaries.
• To streamline the payments for green leaf by introducing online payment method with the collaboration of participatory finance institute (PFI) and to make beneficiary farmers bankable and assist them in enter into formal banking system.
• To educate beneficiaries on best agronomic practices also in line with climate resilience and mitigation.
• To aware beneficiaries on family nutrition, woman empowerment and household budget management for the long-term sustainability of the partnership.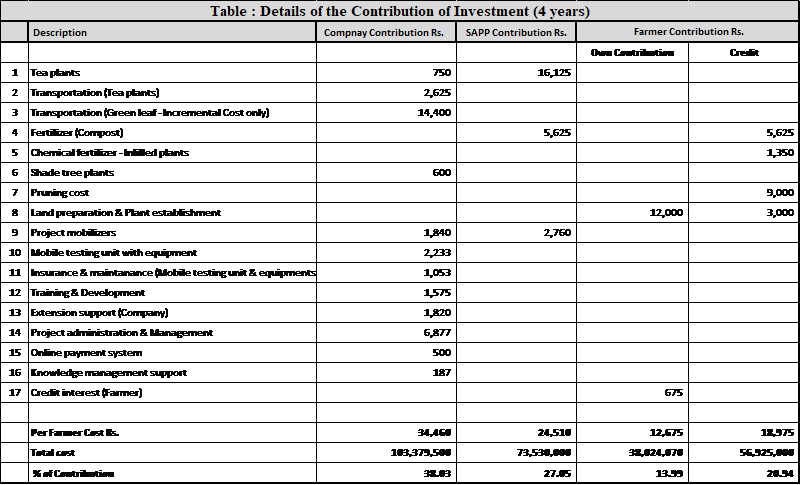 • Tea small holder will continue to have increase output over 15 years.
• Positive impact on foreign reserves of the country.
• Increased living standard of the farmer.
• Model is developed without hindering the current yield of beneficiaries such as re-planting and the assistance of company as well as SAPP would ease out the investment burden from the smallholders during the implementation of the project.
• Usage of matured tea plants (8 – 10 months) with desired characteristics (See annexure 6.4) and compost introduction would provide better assurance for the investment rather than the conventional system.
• Promotion of 30 youths for establishment of mini nurseries with a capacity of 50,000 plants/nursery/annum would assure continuous supply of quality nursery plants for the beneficiaries on top of employment creation for the selected 30 youths under youth loan scheme of SAPP.
• Company would establish a modern tea plant nursery (at present inquiries are made to find solution for minimize soil extraction and to have a substitute for soil) parallel to the project completion which gives assurance to supply the quality plants for the rest of the 3000 farmers in addition to the supply of plants from 30 mini nurseries.
• Deployment of mobile testing unit under company contribution would provide opportunity for beneficiaries to check their soil samples on continuous basis.
• The proposed model is strengthened with extension support under company and SAPP project itself by deploying 10 project mobilizers and 3 permanent extension officials who would implement and monitor the partnership during the 4 years period.
• Company would deploy a designated project coordinator under their contribution to manage the project during 4 years period.
• Comprehensive training and development plan would be entertained under company contribution with resource personals from both the government and private institutions covering broader topics including Youth, gender, family nutrition, climate resilience, financial literacy and good agricultural practices etc. to enhance capacity of the beneficiaries.
• Company would facilitate an online payment mechanism for beneficiaries with the collaboration of participatory financial institute to accommodate fast delivery of payment for farmer proceeds and the loan repayment is secured as the payment would be routed through beneficiary bank accounts.